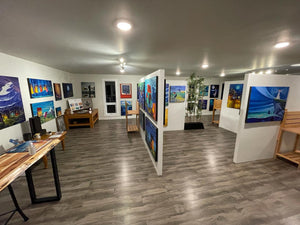 Gallery is now open
The Gallery on Fogo Island opened to the public!
Artist Bio
Adam Young
Adam Young is best known for his whimsical and colourful depictions of Eastern Canada, specifically Newfoundland.  He was born in Halifax, NS, raised in Moncton, NB and has been living on Fogo Island, off the northeast coast of Newfoundland since 2008.  He completed is BFA at Mount Allison University in Sackville, NB (2003).  He went on to completed his BEd (Crandall University, Moncton 2007) and MEd (Memorial University, St.John's 2016).  Adam started his artistic career as a freelance illustrator for newspapers and magazines throughout Canada but his professional body of work began after his first visit to Newfoundland in 2005.
Inspiration for Adam's work comes from the stark beauty of the landscape, architecture and the warmth of the people who live here.  His mediums of choice are acrylics and inks and focuses on the elements of light, repetition, movement and colour.  The fishing stage and/or saltbox house is a common theme within most of Adam's paintings which takes the place as the absent figure. The little colourful shacks embody a playful feeling of curiosity and wonder as they balance on the rocky and sometimes harsh coastline of the North Atlantic.  Adam lives on Fogo Island, NL with his wife Jennifer, their daughters Bella and Scout and dog Johnny Cash.
Have this print custom framed and hanging in my living room in Calgary. Absolutely love it and it brings a smile to my face every time I look at it.
– Jenn H. on Bluenose